Semi Automatic Powder Filling Machine | Dry Powder Auger Dosing Filler
Machine Type: Semi-Automatic, Manual.
Semi Automatic Powder Filling Machine adopts auger screw electronic weighing measurement mode feedback combining computer control, with automatic quantitative, automatic filling, automatic error correction, count, clear material and other functions. Suitable for condiments, natural flavoring, food additives, flavors and fragrances, flour, milk powder, protein powder, solid drink, sugar, monosodium glutamate, pesticides, veterinary drugs, detergents, enzymes, feed additives, chemicals, new building materials and other powder (powder, superfine powder), mixing powder materials quantitative packaging, quantitative filling.
Image Description: CAD Design Drawing of Semi-Automatic Auger Dosing Powder Filling Machine by Uniaote Machinery.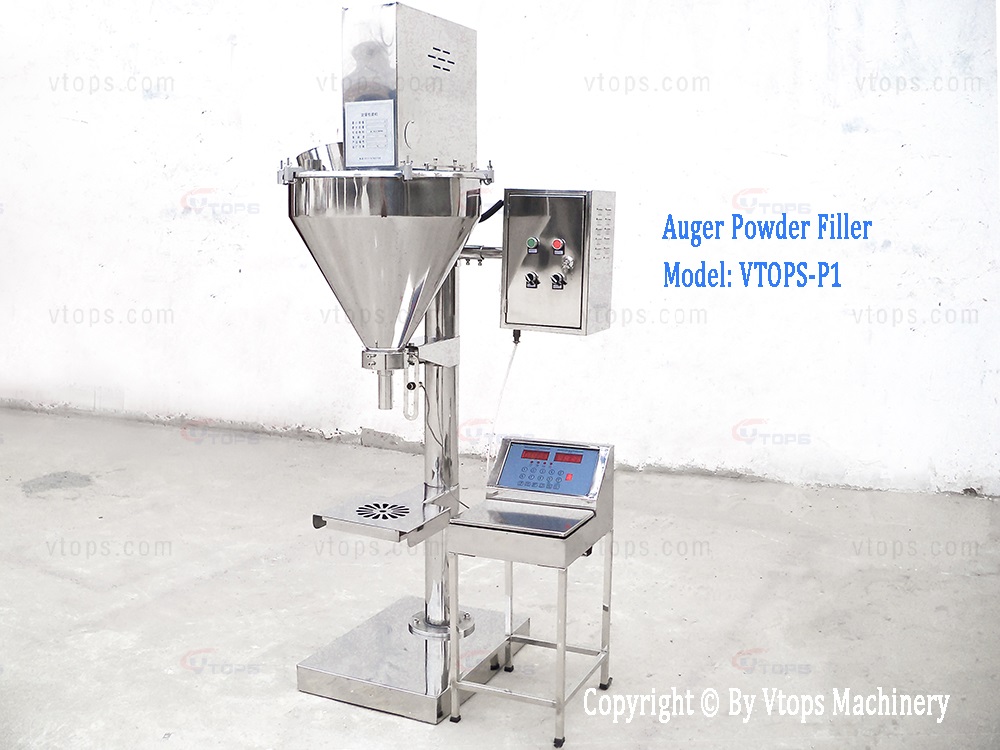 Image Description: Semi Automatic Auger Powder Filling Machine by Uniaote Machinery.
Features:
Suitable for all kinds of bottles, cans, bags of quantitative filling packaging container is not restricted.
Filling motor is a stepper motor or servo motor.
Stirring motor imported from Taiwan, free-noise motor.
Photoelectric sensor induction signal filling material, can also optional foot switch signal.
Feedback value can be adjustable, to meet a variety of precision required.
The filling motor speed can be adjustable, to meet the requirements of various materials.
All stainless steel, match with feeder enables automatic materials level control.
Functions:
Automatic error correction
Weight out-of-tolerance alarm
The product count
Technical Parameters:
Fill Range: 1 gram to 5000 grams
Need to replace the Auger Filler and Tube to guaranteed accuracy and speed; details reference the "The Diameter List of Auger & Tube (Funnel)" please!
Fill Speed: 1200-3500 fills / hours
Fill Control: Timer based / Sensor based
Container: Bottle, jar, pouch, can
Accuracy: 1.0
Hopper Volume: 50 liters
Machine Dimensions: 690× 600×1900mm
Power: AC Three-phase 380V 50Hz 0.9Kw
Related Links:
Contact us?
We encourage you to bring your filling needs to us and give us the opportunity to provide you with exactly what you need.
We know that your products and business are valuable and when you choose one of our systems you are making a choice of guaranteed excellence.
Aslo, you can email us: info@uniaote.com. My WhatsApp ID: +86 17737712080.