Auger Dry Powder Filling Machine CE Certificate
Contents of CE Approved Certificate
ATTESTATION CERTIFICATE OF MACHINERY AND LOW VOLTAGE DIRECTIVES
Technical file of the company mentioned below has been observed and audit has been completed successfully. 2006/42/EC Machinery Directive and 2014/ 35/EU Low Voltage Directive have been taken as references for these processes.
Company Name: Zhengzhou Uniaote Machinery Co., Ltd.
Company Address: Room 1306, Building 10, National University S&T Park, High-Tech Industrial Development Zone, Zhengzhou City, Henan Province, 450000, China
Related Directives and Annex:

Low Voltage Directive 2014/35/EU
Machinery Directive 2006/42/EC

Related Standards: EN ISO 12100:2010;EN 60204-1:2006+A1:2009+AC:2010
Product Name: Powder Filling Machine
Report No and Date: UNIAOTE-2018A01
Product Brand/Model/Type: UA-P1, UA-P2, UA-PC, UA-PDH, UA-PSH, UA-PFL-B, UA-PFL-C, UA-F114S, UA-F114R, UA-DGS-10F, UA-DGS-25F, UA-DGS-50F
Certificate Number: M.2018.201.N4547
Initial Assessment Date: 02.05.2018
Registration Date: 03.05.2018
Expiry Date: 02.05.2023
How to verify this CE?
Certificate Number (Belge Numarası): M.2018.201.N4547
Company Name (Firma Adı): Zhengzhou Uniaote Machinery Co., Ltd.
Validation Result:
| | |
| --- | --- |
| Customer Name : | Zhengzhou Uniaote Machinery Co., Ltd. |
| Registration Body : | CE Marking |
| System : | MD+LVD |
| Certificate No : | M.2018.201.N4547 |
| Certificate Validity : | Valid |
| Scope : | Powder Filling Machine |
| Certification Date : | 03.05.2018 |
| Certificate Expiry Date : | 02.05.2023 |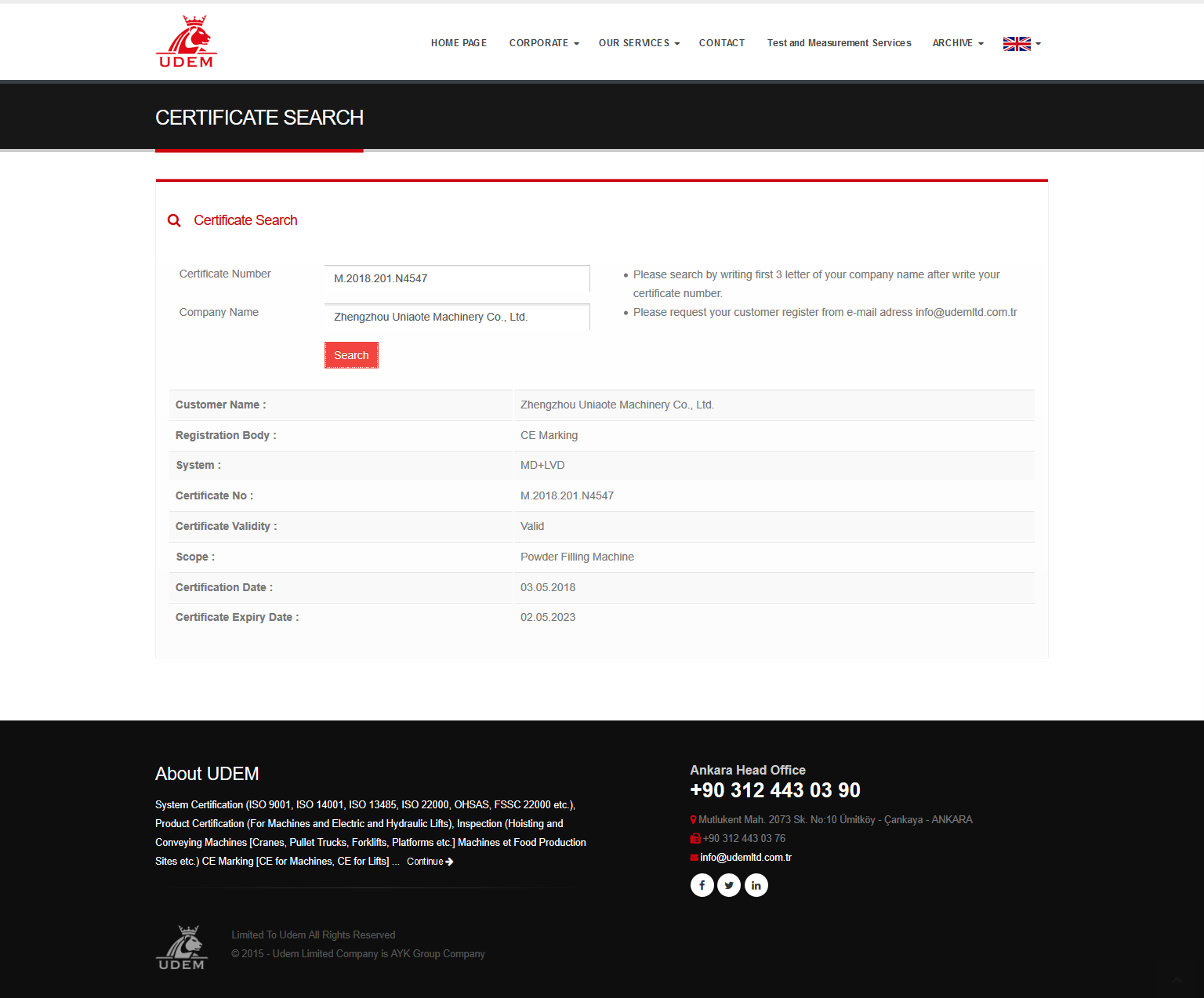 View Enlarge Photo