Semi Automatic Powder Filler Machine
Machine Type: Semi-Automatic, Manual.
Semi Automatic Powder Filler Machine adopts screw electronic weighing measurement mode feedback combining computer control, with automatic quantitative, automatic filling, automatic error correction, count, clear material and other functions. Suitable for condiments, natural flavoring, food additives, flavors and fragrances, flour, milk powder, protein powder, solid drink, sugar, monosodium glutamate, pesticides, veterinary drugs, detergents, enzymes, feed additives, chemicals, new building materials and other powder (powder, superfine powder), mixing powder materials quantitative packaging, quantitative filling.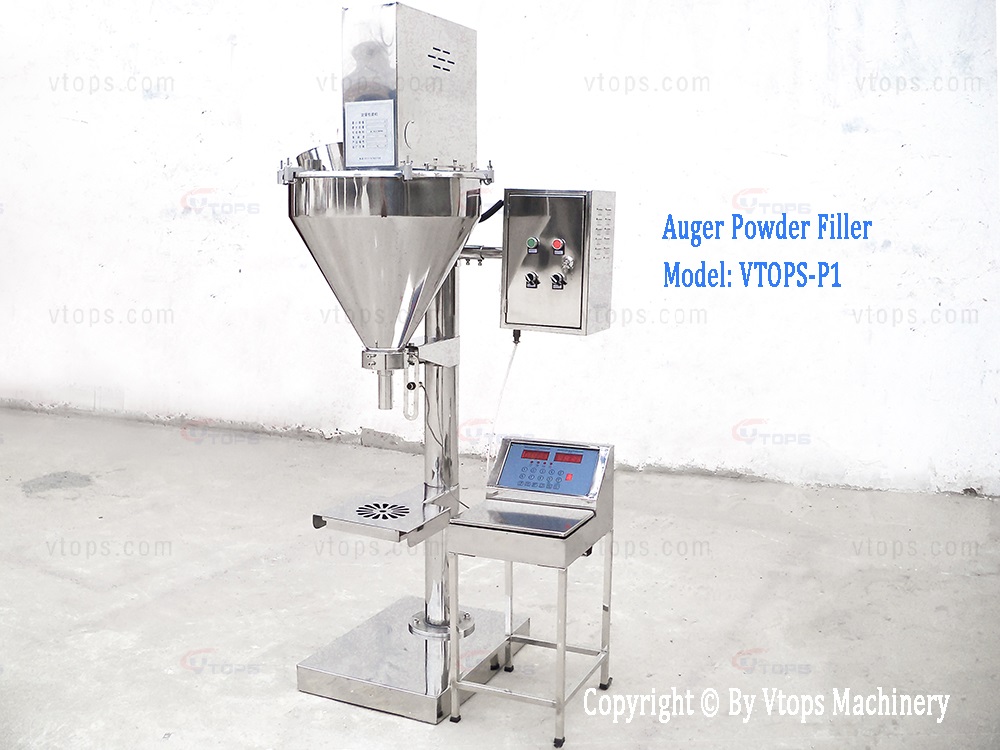 Image Description: Semi Automatic Auger Powder Filling Machine by Uniaote Machinery.
Features:
Suitable for all kinds of bottles, cans, bags of quantitative filling packaging container is not restricted.
Filling motor is a stepper motor or servo motor.
Stirring motor imported from Taiwan, free-noise motor.
Photoelectric sensor induction signal filling material, can also optional foot switch signal.
Feedback value can be adjustable, to meet a variety of precision required.
The filling motor speed can be adjustable, to meet the requirements of various materials.
All stainless steel, match with feeder enables automatic materials level control.
Functions:
Automatic error correction
Weight out-of-tolerance alarm
The product count
Technical Parameters:
Fill Range: 1 gram to 5000 grams
Need to replace the Auger Filler and Tube to guaranteed accuracy and speed; details reference the "The Diameter List of Auger Filler Tube" please!
Fill Speed: 1200-3500 fills / hours
Fill Control: Timer based / Sensor based
Container: Bottle, jar, pouch, can
Accuracy: 1.0
Hopper Volume: 50 liters
Machine Dimensions: 690× 600×1900mm
Power: 3P AC380 50Hz 0.9Kw
The Diameter List of Auger Filler Tube
1g-5g φ20mm – φ22mm
5g-10g φ20mm – φ26mm
10g-50g φ26mm – φ28mm
40g-100g φ30mm – φ34mm
100g-300g φ38mm – φ40mm
300g-500g φ40mm – φ45mm
500g-1000g φ50mm – φ55mm
1000g-5000g φ60mm – φ65mm
* The diameter of auger filler tube for reference only. Please contact our engineers for details. Thank you!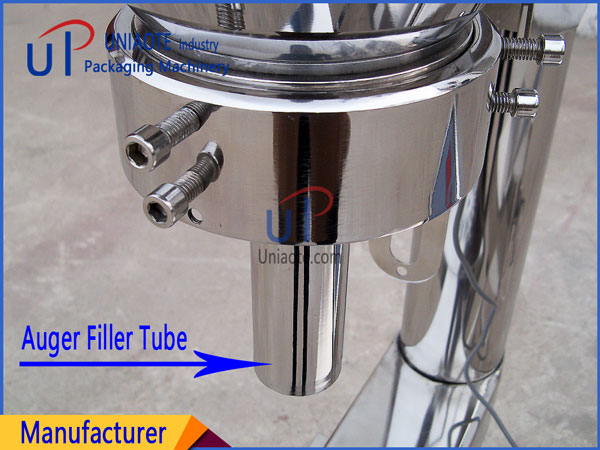 Image Description: Auger Filler Tube
How does it work?
Design Diagram:
Auger Powder Filler Filling Machine Design Diagram
Component List:
Component List of Semi Automatic Powder Filler (UA-P1)
Classic Case
The Layout Drawing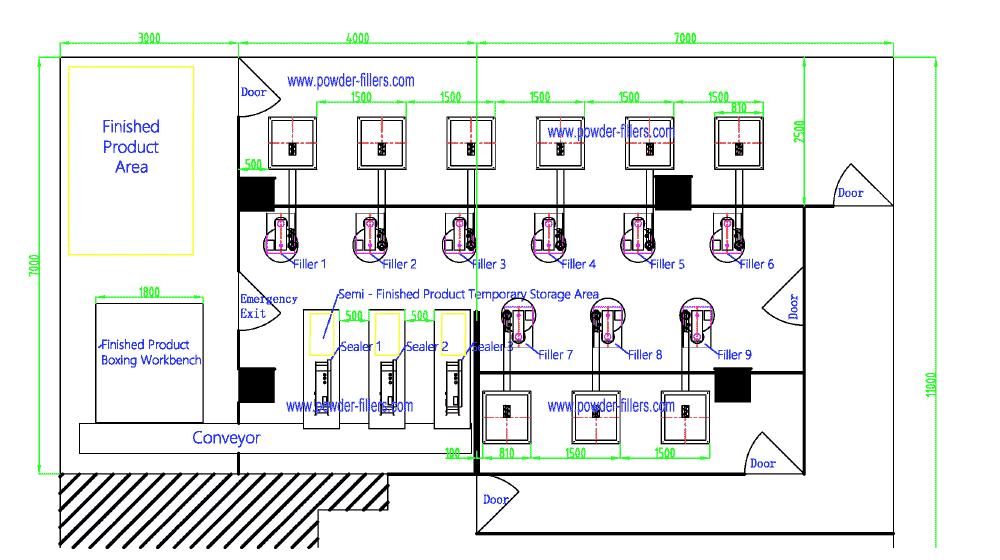 Image Description: The Layout Drawing of Semi Automatic Powder Filling Machine.
The Photo On Scene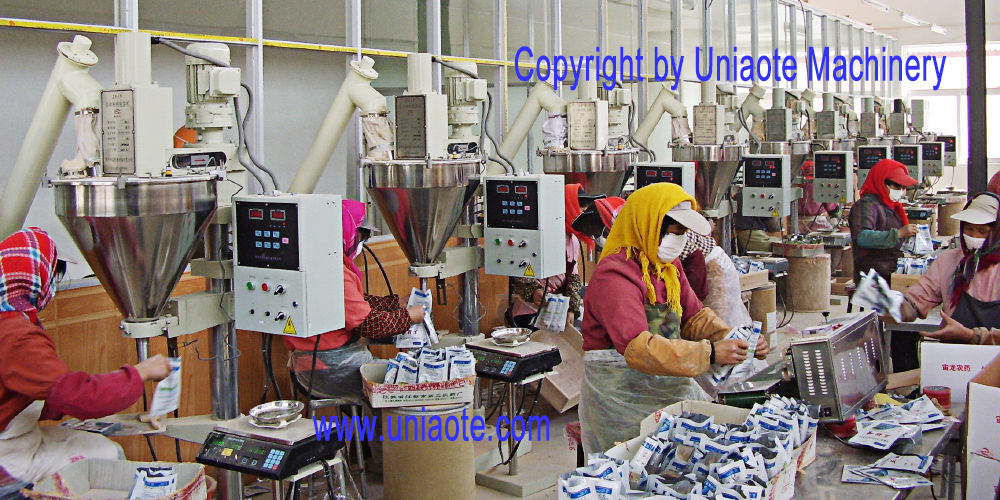 Image Description: The Scene Photo of Semi Automatic Powder Filling Machine
How dose it shipping?
We will packaging in Plywood Box, the following is the packaging information:
(1) Packaging Information: Total 3 (three) Packages in Plywood Box.
2100*700*1000mm 1.47CBM 260Kg Packaging the Powder Filling Machine;
880*950*1000mm 0.84CBM 130kg Packaging the Hopper of Screw Feeder;
2700*270*460mm 0.34CBM 70kg Packaging the Conveyor of Screw Feeder.
(2) Packaging Photos: Details please visit the following!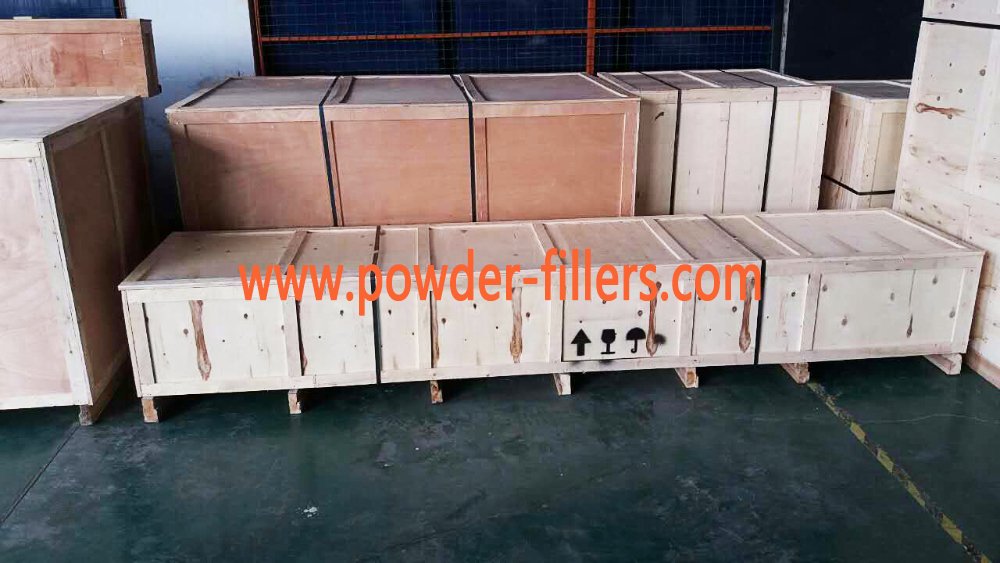 What is the Delivery Terms?
We will deliver it within 5-8 working days after receiving the prepayment.
FOB China's main port, or shipping to the main port of your country.
For a comparison of P1 and P2
Many customer inquiry us the difference between P1 and P2, we made a comparison table, to facilitate the customer to choose the right machine. It is follow:

Filling Range
Filling Accuracy
Contact Materials
HMI (Human Machine Interface)
Control System
Filling Motor
Split Hopper
Level Monitoring Hopper
UA-P1

5g – 5000g

± 1%

SUS304

Keyboard
SCM (Single Chip Microcomputer)

Stepper Motor

Customizable
Customizable
UA-P2

5g – 5000g

± 1%

SUS304

LCD Touch Screen (Brand of DELTA)
PLC (Brand of DELTA)
Servo Motor
Customizable
Customizable
How to contact us?
We encourage you to bring your filling needs to us and give us the opportunity to provide you with exactly what you need.
We know that your products and business are valuable and when you choose one of our systems you are making a choice of guaranteed excellence.
Aslo, you can email us: info@uniaote.com. My WhatsApp ID: +86 17737712080.