Continuous Bag Sealer – Plastic Film Heat Band Continuous Sealing Machine
Continuous bag sealer adopts electronic thermostat control and automatic delivery device. The machine can control a variety of different shapes of plastic film, can be used in a variety of packaging lines. The sealing length is not limited.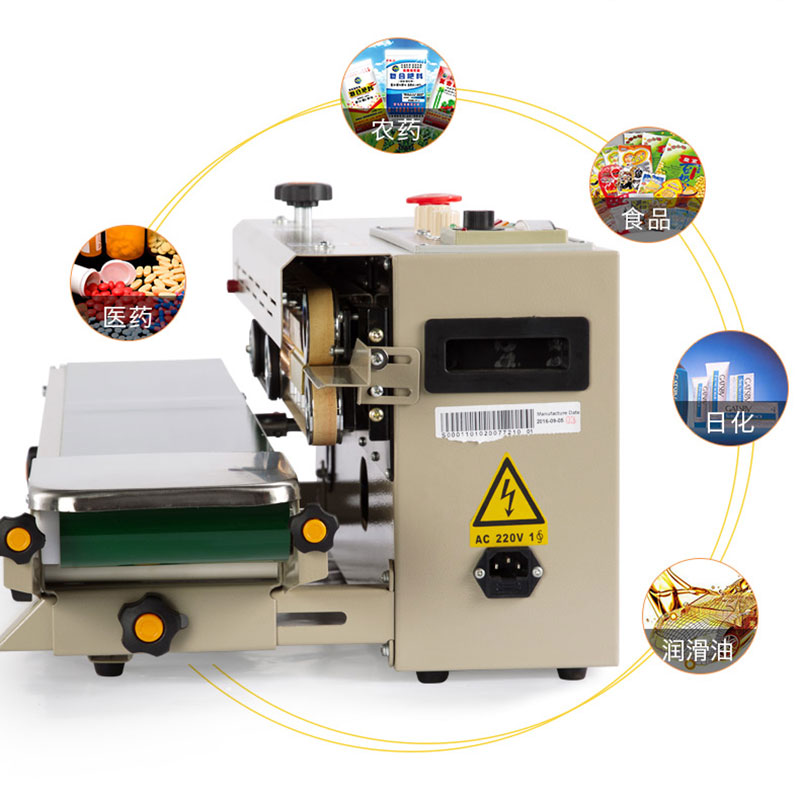 Continuous bag sealer machine can be equipped with embossing wheel and printing wheel, with the need to change the font type, can be printed the dates of manufacture and shelf life on the seal. The sealing pattern and the printing is clear and beautiful.
Sealing and printing can be done once. Date, batch number as needed replacement, easy to use, in line with the provisions of the food hygiene standards.
Continuous bag sealer machine is suitable for the sealing of aluminum foil bags, plastic bags and compound bags in the fields of medicine, pesticide, food, daily chemical and lubricating oil, etc.
The continuous bag sealer machine has the advantages of strong sealing effect and high efficiency; the structure is simple, compact and small in size; Beautiful, advanced technology, low power consumption; easy operation and maintenance advantages, is an ideal sealing machinery.
The continuous bag sealer machine can also horizontal and vertical: horizontal use of dry goods packaging seal; vertical for liquid packaging and sealing.
Specification:
Product Name: Continuous Bag Sealer; Continuous Sealing Machine
Model: FDR-1000-Ⅱ
Brand Name: V-Tops
Condition: New
Driven Type: Electric
Automatic Grade: Semi-Automatic / Manual
Application: Plastic Bag, Plastic Film, Plastic Pouch.
Print Type: Solid-Ink Printing
Printing Ink Source: Solid Ink Wheel
Printing Method: Color Print
Voltage: Single-Phase 110V/220V 50/60Hz
Power: 0.77Kw
Speed Adjustment Method: Electronic Stepless Speed Regulation
Temperature Controlled Method: Electronic Thermostatic Control
Temperature Controlled Range: 0℃ – 300℃
Sealing Speed: 0-12 Meter(S)/Min
Sealing Width: 6-12 mm (Adjustable)
Sealing Length: Infinitely
Film Thickness: 0.02-0.08mm
Conveyor Loading: ≤ 5 Kgs
Machine Size (Dimensions): 920*370*320 mm
Machine Weight: 25 Kgs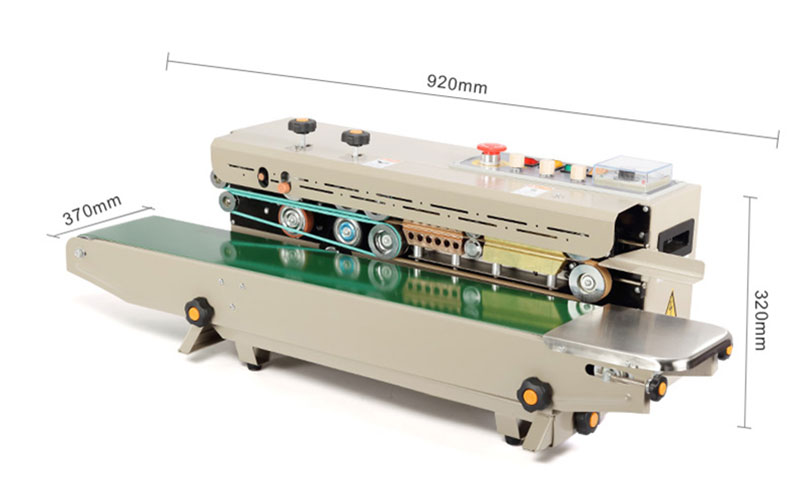 Image Description: Continuous Bag Sealer Sealing Machine Dimensions.